Whitstable Maritime was formed at a meeting of like-minded local people in the Horsebridge towards the end of 2014. It was registered as both a Charity (No. 1171563) and a Company Listed by Guarantee (No. 09017635).
Since then the Charity has focussed on four related objectives:
celebrating Whitstable's maritime heritage
supporting the town's coastal economic development
addressing marine environment issues
encouraging well-being
An early decision was to rescue the Gamecock but it was not until 2016 that the Board decided to undertake a restoration that met the criteria for a National Historic Ship (No. 2858).
Prior to the pandemic, for three successive years, the Charity managed a Harbour & Boat Show involving over 200 Volunteers. Attendance grew from 3,000 to over 10,000.
During the pandemic, the Charity published its popular Coastal Trail guide.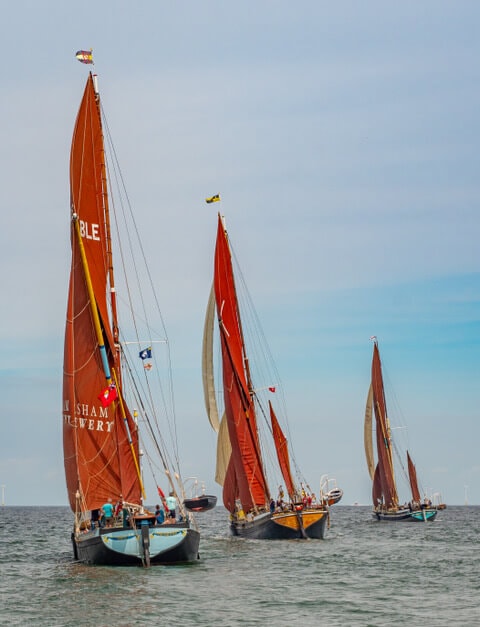 Having a strong Partnership has enabled us to make considerable progress since the pandemic so in the nest five years we expect to achieve the following.
a sail training programme offering Excitement, Self-reliance, Challenge, Responsibility, Leadership and Team Work;
annual customised sail training programmes for Partners and local community groups;
interactive, artistic and educational interpretations of our coastline and marine life, including threats to its ecology;
support for sustainable enterprises including the use of wind-power and traditional crafts;
a tourist attraction offering 'experience' and 'heritage'.
Whitstable Maritime Partnership 2023
We are grateful to our partners for their support in fair winds and calms.
Alan Staley Boatbuilders: for expert advice and Gamecock's mast
Barton Marine Equipment: for marine supplies
Brett Aggregates: for use of East Quay
Canterbury City Council Harbour Board: for South Quay site and berth
Canterbury Brewers & Distillers: for creating a new Gamecock product
Fairly Marvellous: for technical support with our website
Goldfinch Trust: for financial assistance with restoring Gamecock
Icom UK Ltd: for marine radio and navigational equipment
Iron Wharf Boatyard: for providing a winter mud-berth
Juton Paints: for the supply of marine paints
National Historic Ships UK: for advice, publicity and support
Port of London Authority: for materials and technical support
SEAG8: for assistance with a marine engine
Shepherd Neame: for an annual donation
Tiller & Wheel: for joint sail-training programme
Timber Tasks: for sourcing specialist timber
Toby Ward: for services as Artist-in-Residence
Whitstable Improvement Trust: for purchase of timber
Whitstable Marine: for chandlery services
Whitstable Oyster Company: for acting as financier of last resort
Whitstable Photographic Company: for photography and photo-products
Wilkinson Sails: for technical advice and manufacture of sails
How many of us have the opportunity of extending our working life by 60/80 years?